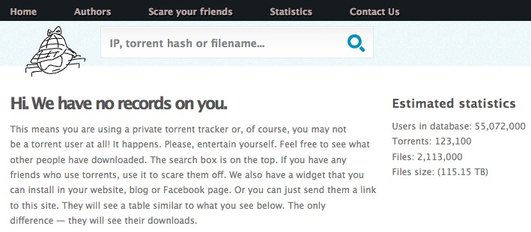 YouHaveDownloaded.com
An interesting site popped up near the end of last year called YouHaveDownloaded.com. You might not have visited it, or even heard of it, but if you've been using torrents, it might have heard of you.
The site is quite simple, it tracks torrents and the people (IP addresses) downloading them, much like copyright holders do (or hire companies to do for them). They claim to be tracking roughly 4%-6% of all torrent downloads and 20% of torrents from public trackers, like The Pirate Bay.
The difference to the copyright holders is that this site makes the information is collects public. You can see what it thinks the IP address you're using has been used to torrent, or any other IP address you can think of. It might not be right, or it might be spot on.
This site just highlights what is going on all the time. Torrenting is a very public activity unless you're making an effort to protect your privacy (like using a proxy or VPN from a reputable provider). Privacy is not the default on the interwebs.
IP addresses are more like PO Boxes than physical addresses — most people have dynamic IP addresses that regularly change, and add in the fact that some people have insecure Wi-Fi, the results on the site aren't that accurate.
The site brings up an interesting statistic, especially if it's true: "About 10% of all online shoppers, in the US, are torrent users as well." In the future will advertisers link an IPs torrenting history to an advertising profile. Is this already happening?
The removal form
The site provides a form that supposedly enables people to request removal from the site. Don't use it.
Previously it asked people to sign in using their Facebook accounts, and the CAPTCHA to get to the non-Facebook removal form didn't work (ie. they wanted to link your data with a real name, cue warning bells). Now it seems like Facebook has revoked their access to use Facebook logins (they say Facebook logins are "Temporarily disabled due problems with Facebook"), so it brings up the removal form, which asks for a name and an email address.
I'm not saying this is what the people behind the site are doing, but this would be all the information they would need, in addition to the information they have on torrents associated with your IP address, to send an extortionate email your way. Or sell your data (probably not to copyright holders, because they hire people to do this for them already).
Here's what their removal terms are (and yeah, the rest of the site is worded like this too):
"Removal Terms
The Details: By submitting a request to have your download activity removed from our database, you are acknowledging that the activity was, in fact, carried out by yourself. This means that you are only submitting a request to have the details of your own personal activity deleted. Any unrecognized activity, such as files you did not download or do not remember downloading, are not — I repeat, are not to be included in your removal request. Why is this imperative? Well, we actually don't have to explain ourselves…sorry.

The important part is that you understand these terms and conditions before hitting that beautiful button that will erase your criminal back ground, at least for now. Wait, you did remember to read these terms before making the decision to submit a removal request, right? Of course you did, everyone reads the fine print.

Other Important Things to Consider: We make no guarantees that your information will not appear on any other databases. We may have erased your bad behavior but, keep in mind that your data on this site is aggregated public domain. So, if by chance, another sadistic group of people decides to open a similar web site, we have no control over what they do with your information. Furthermore, if you continue to involve yourself in activity like this, your future download history will, without a doubt, appear in our database again and we may not be as nice about it next time.

If any part of these terms is still unclear, please visit your local elementary school and ask to repeat grades 3 through 5."
Giving the people or company behind the site any more information about yourself is not a good idea, even if they claim that the site is a joke and you shouldn't take it seriously.
And anyway, if your IP address is listed on the site, it must be because of the person that used it previously. Right?
The only redeeming feature of the site? You can look up the content companies that take people to court for illegal file sharing.