Update: Teapot tapes have been released, here's the recording.
There's a little black box bag, yeah,
somewhere in the ocean on the table,
holding all the truth about us.
It's a little black box bag,
a record of emotion,
everything that ever was.

You may deny it, deny it,
but when I find it, find it,
I'm gonna play it aloud to the world.

–Stan Walker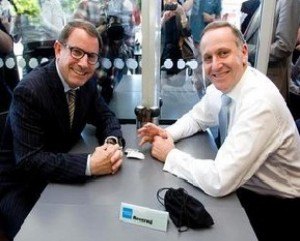 Oopsie
Invite media to a bit of political theater starring you and Other John, public figures, in a public Newmarket café.
Kick media out of said event. But leave some media close enough they could have "leaned over and touched the prime minister on the shoulder".
Forget what is normally on a table in a café. Ignore the large black thing that could contain anything.
Have a wee chat. Maybe about Don Brash and how he might be rolled after the election.
Find out the black bag actually contained a radio microphone and the conversation was recorded. Oh no.
How to turn a little oopsie into a big oopsie
Call contents of recording "bland".
Don't give permission for the "bland" recording to be released.
Call the police on cameraman Bradley Ambrose, who allegedly accidentally recorded the conversation (which generally wouldn't be illegal). Even though you've said before, regarding privacy, that "anyone who is innocent has nothing to fear". Police get search warrants to search multiple media outlets.
Storm out of press conference after media ask questions about recording.
Compare what happened to the systemic hacking of murder and suicide victims' phones in order to sell newspapers, ie. The News of the World.
Set the recording free
Chief High Court judge Justice Helen Winkelmann declined to make a judgement on whether the recording was public or private because it would be a "mini-trial" which would interfere with an ongoing police investigation.
So no tea tapes before election day on Saturday, unless some devious media outlet releases the recording even though they could face legal action(oh [email protected]@).