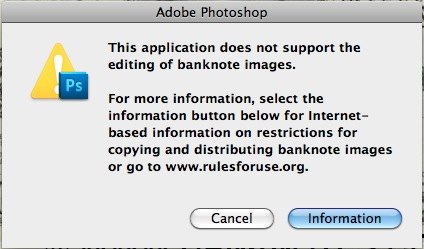 Not with Photoshop (and apparently Paint Shop Pro), or your printer, anyway.
The counterfeit deterrence system
If you try to open an image of specific currencies (and I assume at a specific resolution or higher) in Photoshop, you'll receive the same error message as above. It's interesting to note that New Zealand's money isn't blocked from being opened. Probably because we're too busy trying to stop our passports from being counterfeited.
You can test it out using images from Banknotes.com. This one and this one throw up the error for me.
Here is Adobe's information page on their 'Counterfeit deterrence system'. What Photoshop is looking for is apparently a Digimarc digital watermark, different from the EURion constellation printers, or at least colour photocopiers look out for.
How to get around it
So what if your counterfeiting plans were going well so far, and now you're at a standstill because of Adobe? You can use Gimp. It opens banknotes without trouble. So do old versions of Photoshop. And Microsoft Paint.
Why did Adobe think it was a good idea to add this? Counterfeiters will already know that they can use an older version of Photoshop, or use other software to get around this additional 'feature' and will be doing that.
All Adobe is doing is pissing off people who are trying to use Photoshop for a legitimate reason.
The Rules For Use website the dialog box directs users to even lists situations where you can reproduce banknotes legally (e.g. at a certain size), but Photoshop blocks opening banknotes full stop.
Why is it included?
Adobe will have had to spend time and money on including this system, with no returns in the form of additional sales. I assume they were pressured to include it, or even paid to include it by the Central Bank Counterfeit Deterrence Group.
Perhaps more concerning is that Adobe apparently has no idea what they have actually included in their software on behalf of the CBCDG:
"The inner workings of the counterfeit deterrence system are so secret that not even Adobe is privy to them. The Central Bank Counterfeit Deterrence Group provides the software as a black box without revealing its precise inner workings, Connor said."
Secrecy
If you've bought Photoshop, were you aware of this system at the time of sale? You bought the software to open and edit images, but there are limitations you wouldn't have been told about.
Here's the two places where this system is talked about on Adobe's website. A forum post and the information post linked to above.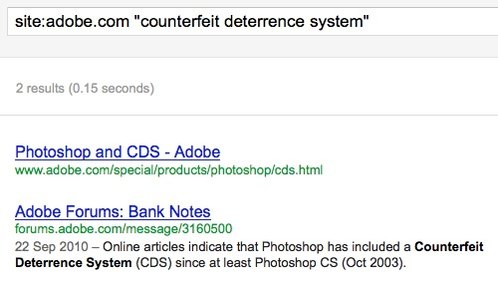 Where's the information page linked to from on Adobe's website? My guess is not very many places, because they should have come up in the search too.
Printers are in on this too
I tried to print United States banknotes from Banknotes.com too. And the job failed. Here's a New Zealand banknote that printed (and scanned) fine, with one of the United States notes below, which stopped printing halfway through.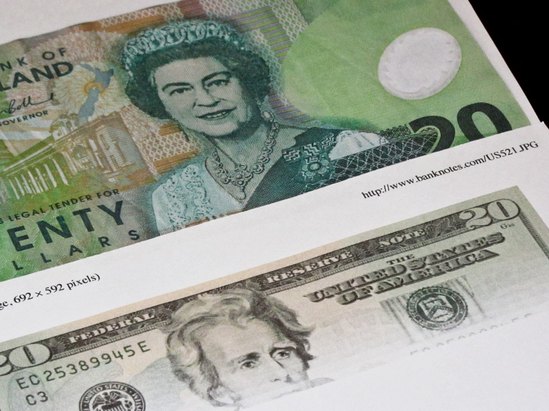 Here's the error message in the print dialog.

Error 9707 seems to be specific to the counterfeit deterrence system, but is only described as "reading pixels failed".
So I guess every time I print something, either the printer or the driver is all: "IS THIS LOOK LIKE MONEY?! NOPE, SEEMS TO BE A GIRAFFE."
What I wonder is what other, potentially less visible and transparent "features" are being included in systems because of pressure or money?
I don't want manufacturers including these non-features in their products for me and I don't want my technology making decisions for me.