Update: My exemption was approved. Here's what I wrote.
On August 1st changes were made to the graduated driver licensing system in New Zealand. The minimum age to apply for a driver licence changed from 15 to 16. That change and that the restricted age was going up with it was fairly well publicized, but what wasn't was that the age to get a full licence also changed. This Nelson Mail/Stuff article [now offline] doesn't mention changes to the full licence age at all. This Timaru Herald article stops at the restricted changes too. The latest AA magazine, the Winter 2011 edition of AA Directions, only talks about the changes to the learner age. Not surprisingly, people are confused. I've written about the NZTA being unclear before.
Exemptions
However, if someone already paid for their licence test before August 1st, they get around the changes. If you missed out by ~10 days, you have to apply for an exemption to get your licence in the previous time frame, which seems simple at first. The NZTA says they "will grant you an exemption," basically if you would have been able to get your licence under the guidelines before the changes and if you have a "clean driving record."
You have to pay a non-refundable $27.20 fee, which covers the processing(???) of the application.
Not everyone is a lawyer
The exemption form (PDF) contains some complicated questions. It seems unfair to expect teenagers to be able to competently answer them.
What have you done to mitigate the risks to road safety? and
How has the legislative requirement been substantially complied with and why is further compliance unnecessary? or
What action have you taken or provision have you made that is as effective or more effective than actual compliance with the legislative requirement? or
How are the legislated requirements clearly unreasonable or inappropriate in your case? or
What events have occurred to make the legislated requirements unnecessary or inappropriate in your case?
Can someone just write "I have a clean driving record?"
Publicity
With the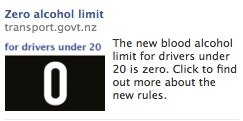 texting ban there were advertisements in newspapers, plus it was covered well by the media. A couple of days ago I saw a Facebook ad about the new blood alcohol limit for young drivers. Excellent. But I had no idea that the changes to the driving age could affect people on their restricted licence from moving to their full licence until after the changes came into effect, and I'm in that target audience.
"The NZTA issued a media statement and launched a new web page with information when the changes were announced, followed up by reminder statements over the past couple of weeks – the changes were flagged as one of the main news stories on our website homepage for several weeks."

"The info has been available from the homepage of the NZTA website – www.nzta.govt.nz, as well as from www.practice.co.nz (site for restricted [sic] drivers and their parents), and www.safeteendriver.co.nz"
The media didn't seem to pick up on the affect the changes have on restricted drivers until after the changes. I think the new web page meant is Safe Teen Driver, which is a site for the parents of restricted drivers. Unless that site has been modified since the changes, it doesn't seem like, after a quick browse, there is any mention of the changes. Teenagers aren't checking the NZTA website. The Practice website is for learner drivers and my issue is the with lack of communication to restricted drivers about changes that affect them.
RRFC
Now I understand why articles end up saying something along the lines of "there was no response after repeated requests for comment."
Questions I asked via email on whether the NZTA thought the exemption questions were reasonable to be asking young people, whether having a clean driving record is a good enough reason for getting an exemption, whether information about changes was advertised in newspapers, on TV and through social media, and what the money from the fee for applying for an exemption actually goes towards remain unanswered. I was directed to the NZTA website for full information on applying for exemptions.
I did, however, get sent statistics that in July there were around 17,500 learner licence tests conducted compared to around 10,000 in "a normal month" and that there was a 15% increase in 15-year-olds applying to sit learner licences since May when the change was announced. I'm not sure if this takes into account the fact that there were school holidays in July. The pass rate was also up from "the recent average of around 60%" to 67%. I asked for statistics on restricted and full licenses because I think there was a lack of attention given to those age changes, not the learner licence age change. I am yet to have been sent those statistics.
I have to apply for an exemption to get my full licence. What should I write, and what second question should I choose?
Image credit: Hamed Saber