The Children's Healthcare of Atlanta has been running their Strong4Life campaign since May 2011.

This is a parody Twitter account, but the bio is spot on. Here's a selection of advertisements they have been running: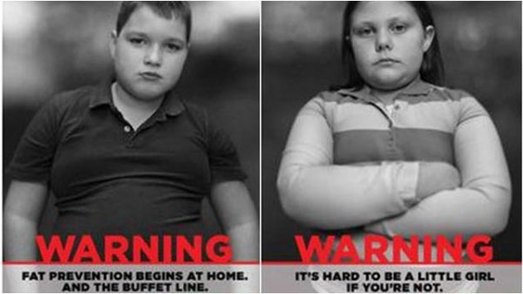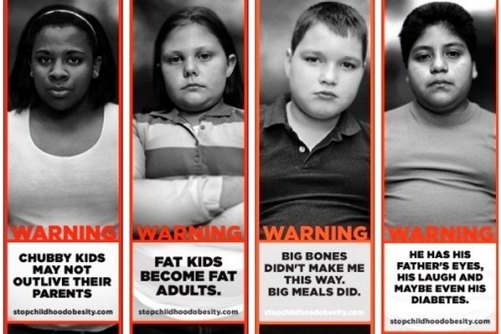 You can watch similar TV spots they have run on their YouTube channel.
Rather than focusing on encouraging healthy behaviors, the ads shame and stigmatize overweight kids.
"What psychologist would think shame and bully ads would be effective?"
None were consulted in the ad campaign creation process:
@5minutesformom No – child psychologists were not part of the creation of the ad campaign. Focus groups with parents were.

— Strong4Life (@strong_4_life) January 28, 2012
So why did they think these ads were a good idea?
"The hard-hitting tone of Children's Healthcare's ads were inspired by Georgia METH Project's 'Not Even Once' campaign."
Because anti-meth ads using the same techniques worked.
Because meth users and kids who are overweight (wait, the ads are targeted at the parents, not the kids!) have so much in common. WHY WOULDN'T IT WORK??
Strong4Life thinks that the ads are okay, because only parents will see them. Not children.
@calledoutrev The ad campaign is targeted toward parents and caretakers- not the children.

— Strong4Life (@strong_4_life) January 6, 2012
Not sure how they come to this conclusion.
From an actual psychologist, Dr Rebecca Puhl, director of research and weight stigma initiatives at the Rudd Center for Food Policy & Obesity at Yale University:
"There seems to be this perception that it's OK to shame children and families struggling with obesity because that will provide an incentive to lose weight. However, research in weight bias shows that when individuals feel shamed or stigmatized because of weight they're actually more likely to engage in behaviors that reinforce obesity: unhealthy eating, avoidance of physical activity, increased caloric intake."

"Alan Guttmacher, director of the Institute of Child Health and Human Development, agreed that the Strong4Life campaign 'carries a great risk of increasing stigma' for overweight and obese children."
The original TV ads stopped airing, but there's a new one out as of a couple of weeks ago. Most of the billboards have come done, and apparently the rest will come down in March.
"The stigma itself needs to be addressed itself because until we do that, why would a fat child want to go out on the playground and be teased? We want to create an environment where people are not treated so poorly because of their bodies that they'll want go out and enjoy physical movement." – Amy Farrell, author of "Fat Shame: Stigma and the Fat Body in American Culture" and a professor of American studies and Women's & Gender Studies at Dickinson College.
The National Eating Disorders Association called for Children's Healthcare of Atlanta to "dimantle [the] alarming, anti-obesity ad campaign that targets and shames children."
"The ad campaign is most successful at shaming youth who are overweight and reinforcing societal prejudice against children who do not have an 'ideal' body type." "Every day we hear about the terrible rise in bullying within our schools, yet this ad campaign could actually promote and give permission to such behaviors among kids. Sadly, these ads will be successful in shaming children with weight problems and their parents, but will do nothing to promote and educate about wellness and emotional well-being." "As many as 65% of people with eating disorders say bullying contributed to their condition."

"Shame on Children's Healthcare of Atlanta … not shame on the local kids."
And also, what were the parents of the children in these ads thinking?