Whaleoil, Catcus Kate and friends have blogged about a letter mailed to prospective voters by Labour.
This is, I assume the abridged version of what someone sent Whaleoil:
"A very 'classy' threat from Labour (see attached), it makes me wonder how do they get information about my child… and even if info is accessible, the use of it is rather inappropriate."
Here it is: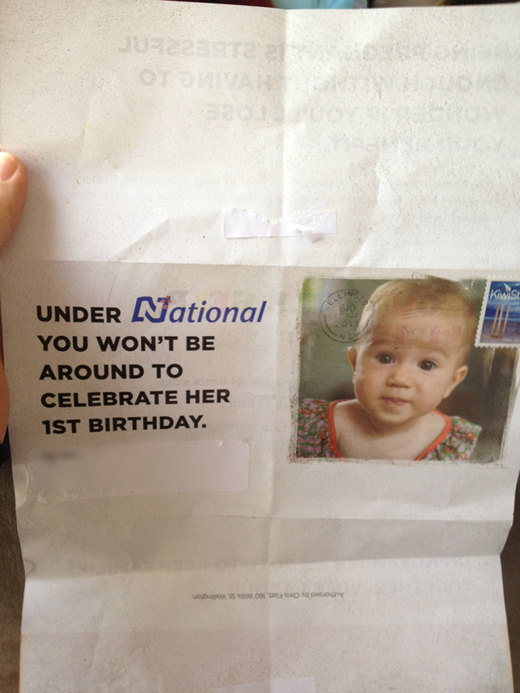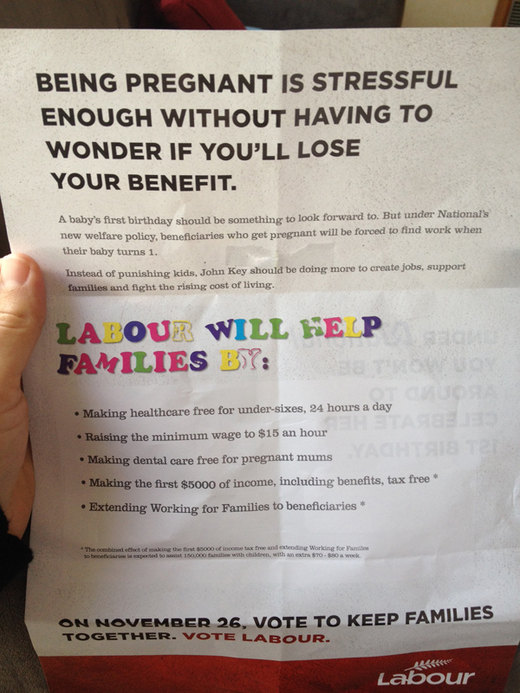 Child's information
The first time I read it I thought the person meant the child on the front of the mailer was her child, because of the emphasis of her child's details (careful editing?). That isn't the case. Labour used the electoral roll's information on gender, occupation and, I assume age, to target their mailer.
"You won't be around"
The first time I read the main statement: "Under National you won't be around to celebrate her 1st birthday", I thought of death. But in the context of the second page, it becomes apparent that Labour is talking about having to work. If that was intentional, it's distasteful, but not end of days stuff. Either way it's a poor choice of words I don't think illustrates the point well–there's nothing stopping someone having a birthday party on a weekend instead of a weekday. Mothers who choose to work deal with this already.
One or five?
The second paragraph on the second page is misleading too. "But under National's new welfare policy, beneficiaries who get pregnant will be forced to find work when their baby turns 1", but so is Cactus Kate when she says the return to work is actually when the baby is five.
What I think Labour is trying to get at is if someone has a baby and already had a child, under National's policy they will have to look for part-time or full-time work when the new baby is one.
From National's fact sheet (pdf):
"Those receiving Sole Parent Support will be expected to look for part-time work when their child is five years old and full-time when their child reaches the age of 14.

Those who have an additional child while on benefit will be exempted from work expectations for 12 months, in line with parental leave provisions. Work obligations will then revert to the age of the youngest child when the parent went on benefit.

For example, a beneficiary with a seven year old, who has another child, will return to a part-time work expectation when their newborn turns one. A sole parent of a fourteen year old who has another child will return to a full-time work expectation after one year."
More from Cactus Kate
"And lets think from a working parents perspective, if the child has a party during the day they miss the bloody party don't they as they are WORKING? Imagine picking this out of the letterbox when you know you will miss their birthday as you are working as most parents are. Like they should be guilty for not being there."
Remember, this is the Solo Parent Support benefit. Why and how as a solo parent would you throw a party you couldn't attend? If Kate means a couple where one parent is working and the other is throwing the party, it sucks if both parents can't make it. But there's nothing stopping the parent trying to get time off of work, or being flexible with the time and date of the party, eg. throwing it on a weekend.
Forced to return to work
I think the key message Labour is trying to push is that there would be no choice for you if you didn't want to return to work. The intention isn't to make working parents feel bad for going back to work when their child is one, but that they should have a choice whether to or not.