Fuck tha police
Comin straight from the underground
Young nigga got it bad cuz I'm brown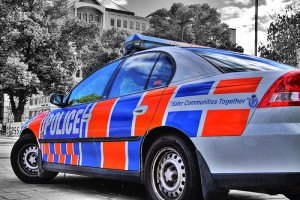 Singer Tiki Taane was arrested earlier this month after singing lyrics from the rap group N.W.A after the police entered a venue he was performing at. The police left and apparently there was no intention to arrest him on return, but he "refused to co-operate" and "he was completely out of control". The promoter and the DJ were also arrested, I'm not sure what for, however they seem to have been released without charge. Taane was charged with disorderly behavior likely to cause violence.
Association president Greg O'Connor's account on Close Up was muddled but I think his point was that Taane wasn't arrested because of the lyrics, rather for his behavior after police returned an hour later to talk to him. Taane says that the officer may have thought that he was being uncooperative and giving a fake name (his birthname—Nathan Glen Taane Tinorau) and a vague address ("At the moment I live in Papamoa and I live in Woodhill and I'm staying at a hotel"). I think what O'Connor is saying contradicts Taane's lawyer reportedly saying that "he would enter a not guilty plea to the charge tomorrow on the basis his client was not acting in a disorderly way and was excercising [sic] freedom of speech".
Unless there's something that O'Connor and Taane are both holding back (which O'Connor says is the case: "…he said that "any right-thinking New Zealander will understand and will be fully supportive of police actions" when the facts emerge") it doesn't seem like singing those lyrics were a legitimate reason for arrest—and O'Connor says that wasn't the reason. But I'm also unsure how allegedly being uncooperative about personal details was inciting violence.
O'Connor talks about an incident occurring at the bar, but between patrons, not involving the police.
It seems to me that the charge, the promoter and DJ being arrested too and the defence Taane's lawyer is taking about all point to Taane being arrested because of the N.W.A lyrics. Fuck Tha Police is a song protesting against police racism towards black youth and just because it has inflammatory lyrics doesn't mean that it shouldn't be protected as free speech.
Free speech includes not only the inoffensive but the irritating, the contentious, the eccentric, the heretical, the unwelcome and the provocative provided it does not tend to provoke violence. Freedom only to speak inoffensively is not worth having. – Redmond-Bate v Director of Public Prosecutions
Image credit: Nick CP