Look what I found at the end of the Hoyts ticket counter: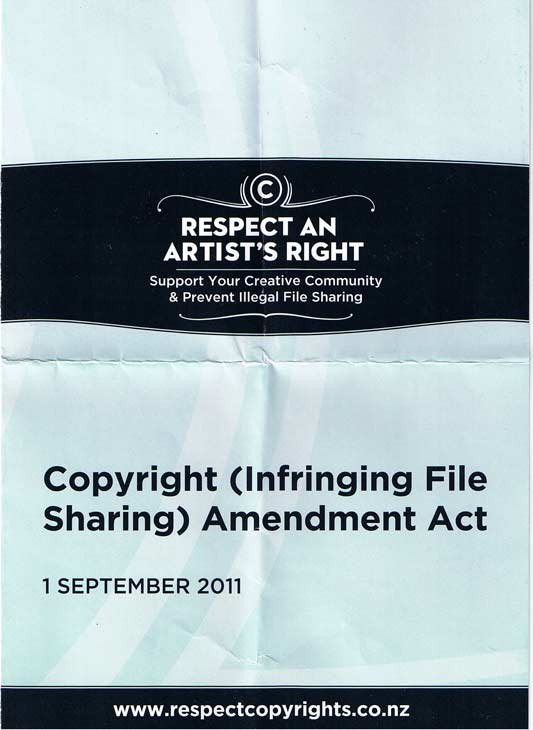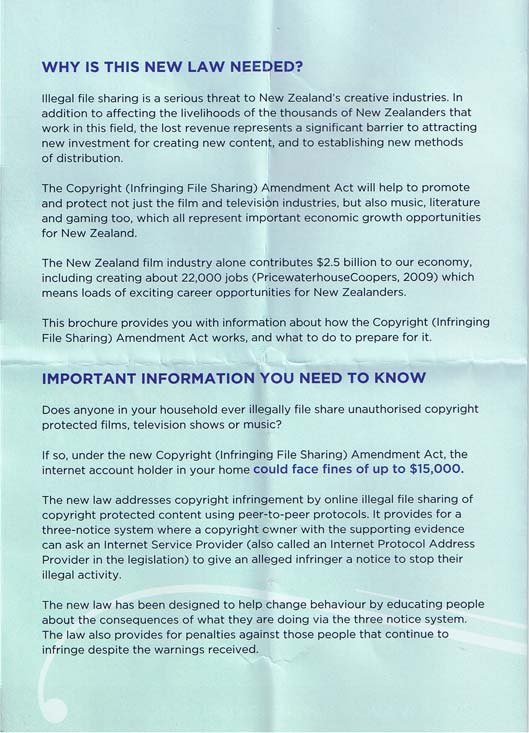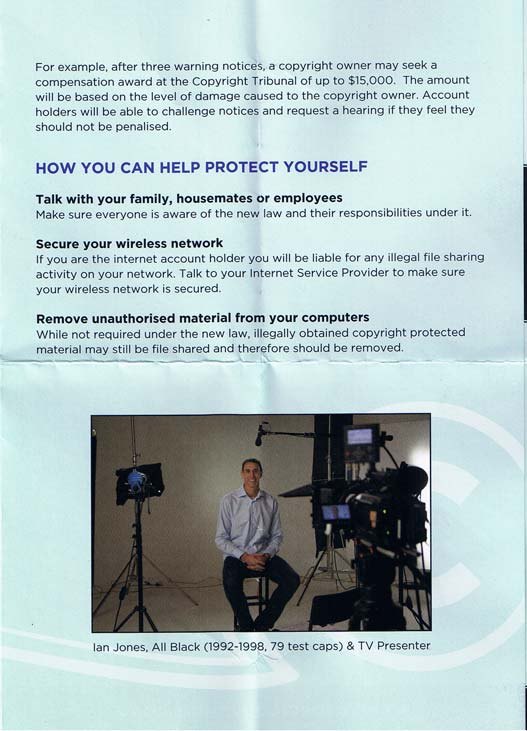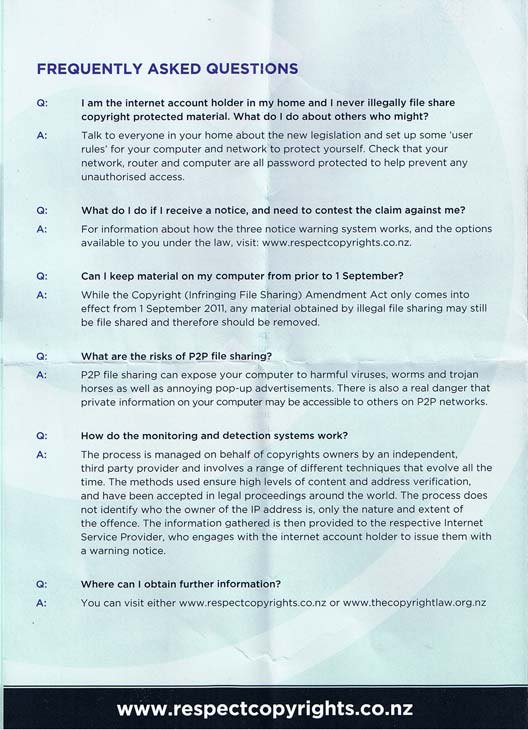 It contains some interesting content.
"Remove unauthorised material from your computers"
"While not required under the new law, illegally obtained copyright protected material may still be file shared and therefore should be removed."
Read: buy the files you downloaded illegally in the past. Helpful advice would be to remove peer-to-peer software from your computer if you're not using it, or to stop sharing illegally obtained material if you're doing so (eg. stop seeding).
"What are the risks of P2P file sharing?"
"P2P file sharing can expose your computer to harmful viruses, worms and trojan horses as well as annoying pop-up advertisements. There is also a real danger that private information on your computer may be accessible to others on P2P networks."
Finding files through moderated sites (which can remove harmful torrents), reading the comments on torrents and having up-to-date anti-malware software all reduce this small risk of harm.
The "real danger" of private information being inadvertently shared is practically impossible with torrenting. LimeWire, FrostWire and friends were possibly deceptive about what user's folders were actually being shared in the past, but now LimeWire is dead and FrostWire exclusively uses torrents, so it shouldn't be a problem anymore.
But points for including the relatively unbiased URL of NetSafe's The Copyright Law, albeit in tiny print down the very bottom on the back page.
Respect Copyrights.co.nz
This site is interesting, especially when you compare its list of legitimate places to buy movies and TV shows to the US version's list.
Our list for TV shows is basically the On Demand sites for the free-to-air TV stations, plus iSky. On the movies side we have iSky, the console networks and iTunes, which is also listed as having TV shows, but that's not the case in New Zealand.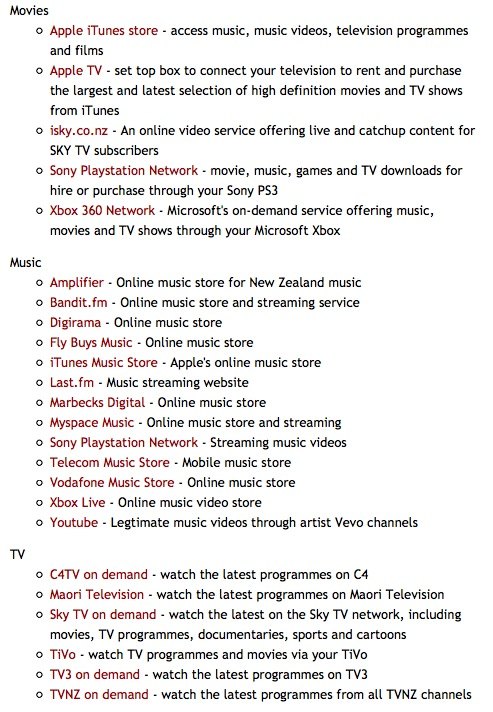 In comparison, the US site lists 43 legal alternatives, including iTunes (which you can actually get TV shows from in the US, or by using a US iTunes account), Hulu and Netflix.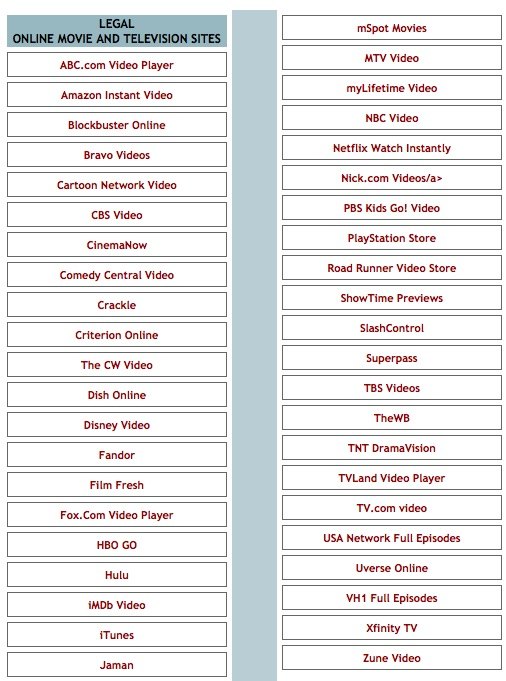 And the MPAA wonder why people illegally download movies and TV shows in New Zealand?
On a plus, Respect Copyrights has removed that ridiculous clause from their Terms of Use stating that no one was allowed to link to their site without their "express written permission". Their grasp of the internet is growing!
Spotify
Good news on the music front though. Music streaming subscription service Spotify is coming to Australia and New Zealand, possibly around February next year. The downside is that they're now in bed with Facebook, so you'll need a Facebook account to use it.
NZ Movies
Jonathan Hunt and Lance Wiggs illustrate how inadequate the sites MPAA lists are. MPAA, NZFACT and friends love harping on how people pirating movies like Boy are harming our movie industry in New Zealand.
But you still can't download it legally from iTunes.
And I wouldn't count on it being added either. Remember Sione's Wedding? You know, the movie released in 2006 that cost "its investors an estimated $1 million" because it was pirated?
It's not in the New Zealand iTunes store five years later.
But of course, it's in the US iTunes store as Samoan Wedding.
Nice one. Perhaps more kiwis would support their creative community, if, you know, you actually made it easy for them?