I thought I recognized one of the photos in one of the presentations at TEDxEQChCh, and I was right. It turns out that I recognized it because it was my image. Kind of.
The photo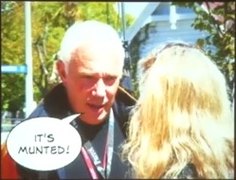 That's my original photo on the left, which I posted on Flickr. The modified image on the right was used in the talk Tragedy Plus Distance (the other TEDxEQChCh talks are up on YouTube now too, and you should watch them). I've looked on Google, Flickr and Facebook and can't find the modified image anywhere (if you see it let me know). Unfortunately free reverse image search engines like TinEye only index a relatively small number of images.
I don't know if the site the modified image is on is making money or provided attribution to me. I'm not having a dig at the TEDx speaker—few if any speakers attributed the images used in their presentations and any attribution would likely point to the modified image, not my original one.
The stolen scream
Unlike mine, this is an extreme and interesting case of image plagiarism: Noam Galai's photo of himself screaming made it into 30+ countries, on book covers, in magazines and on t-shirts.
The case against watermarking
"[A] watermark breaks the image."
Watermarking photographs is an option. But an ugly one. The lesser evil of watermarking on the edge of an image rather than in the middle presents the option to someone who is determined of just cropping it off. Is a casual sharer going to go out of their way to crop an image? Unlikely. Let's assume they would provide attribution either way. Are they going to want to share the image at all? Unlikely. The comments on this post about watermarking  are worthwhile reading.
In a survey of professional photo buyers, PhotoShelter found that "an overwhelming majority of them stated that an image with a prominent watermark is less likely to be licensed than an image without any watermark at all." Co-founder Grover Sanschagrin agrees that watermarks result in people being less likely to pass your images on to others and says that prominent watermarks send a subtle signal to buyers that you're a difficult person to work with.
The Internet copyright conundrum
I think the interesting thing for me is that the person who modified and posted the image is probably a content creator too. They likely have at least some content they place usage restrictions on.
What does All Rights Reserved mean to an Internet user? Is personal and noncommercial use (like blogging, Tumblring etc.) of a reasonable amount of a person's content with attribution accepted practice? Some Flickr users don't want their photographs being shared at all. I disagree—the more people who see my photos the better. A large side goal of that is to promote my other content, which requires attribution.
Should I put my photos under a Creative Commons licence then? I'm hesitant. Among other things: some of my photos have made me money—would buyers be put off if the same photo was available for 'free' under a noncommercial licence? Creative Commons is essentially irrevocable and the format of the original content can be changed under any licence—attribution is not linkable offline.
I think I'm happy with the status quo. All Rights Reserved with the knowledge that because of the nature of the Internet the image will be shared noncommercially no matter the licence, but that hopefully a link back will be shared too.
If you share content off the Internet please link back to the original creator. It's extremely easy to find good quality 'free' images on the Internet, I've posted before about finding images responsibly on Flickr. When I was trying to track down the modified image I saw that Google provides options for searching for Creative Commons labeled content too.
Even if imitation is the greatest form of flattery it can still leave a bad taste behind.
What does copyright in the context of the Internet mean to you?